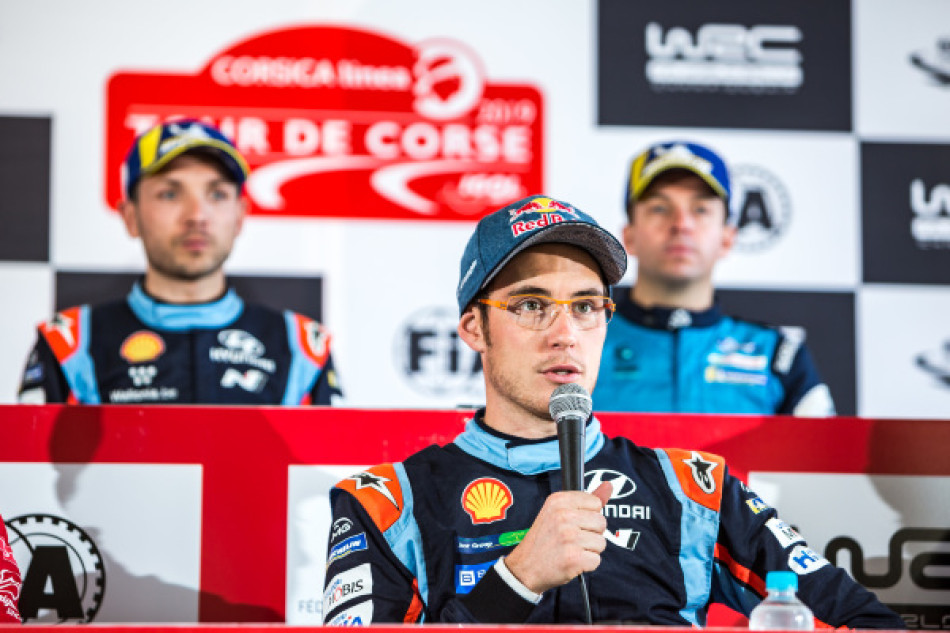 WRC – T. Neuville: "A tough weekend with lots of twists & turns but not a bad one!"
FIA WORLD RALLY CHAMPIONSHIP
Present:
Thierry Neuville (BEL), Hyundai Shell Mobis World Rally Team
Nicolas Gilsoul (BEL), Hyundai Shell Mobis World Rally Team
Sébastien Ogier (FRA), Citroën Total World Rally Team
Julien Ingrassia (FRA), Citroën Total World Rally Team
Elfyn Evans (GBR), M-Sport Ford World Rally Team
Scott Martin (GBR), M-Sport Ford World Rally Team
Andrea Adamo, Hyundai Shell Mobis World Rally Team
Q:
Thierry Neuville, it's now win number 10 in your WRC career. The story has been incredible this week-end. How do you feel now?
TN:
Good. It was a tough weekend with a lot of twists and turns but not a bad one. We were fast from the first day and then had ups and downs. Generally speaking, the feeling was pretty good, especially on Saturday. Lot of credits to Elfyn also for a great drive. They've done an incredible job and they would have deserved to win, maybe more than anybody. But in rally, to win, you have to finish. That's the game.
Q:
We could feel your frustration on Friday?
TN:
There was no real frustration but the feeling wasn't great in the car. But the times were there and I knew we had the potential. That's why I was a bit disappointed. But then, my confidence came back and I was able to push harder.
Q:
You had an incredible run yesterday in the long stage. Talk to us about that…
TN:
It was amazing, but Elfyn paid us back this morning. I had a good stage and followed the pace-notes. Nicolas did a great job this weekend. It gave us all the confidence we needed. I felt ok, but I did not expect to gain that much.
Q:
What about this morning, what did you think about the time difference after the first stage?
TN:
It was a clear response from Evans. We couldn't have pulled back eleven seconds.
Q:
It's another exciting year again. How do you feel now?
TN:
There are a lot of changes in the FIA World Rally Championship lead. It's very tight because we are only two points ahead of Sébastien (Ogier) and five points in front of Ott (Tänak). It's going to be difficult to keep it because in Argentina, we won't have the best road position. If it starts raining, maybe we'll have a better chance. We never know.
Q:
Nicolas Gilsoul, Corsica demands an insane amount of work from co-drivers…
NG:
For sure, it's the most difficult rally for co-drivers. I struggled. I gave Thierry some strange notes. At one point for instance, I said turn right whereas we both knew it was left.
Q:
What was your mood this morning after the first stage?
NG:
Elfyn was really impressive. It was a proper response after yesterday. To be so ahead, I can only grant them a huge amount of respect. We are less competitive in the morning in cold conditions but better in the afternoon where it heats up. We need to work on that.
Q:
Sebastien, it's a great haul of points. However we have not seen the Seb Ogier that we are used to. Pace wasn't there. How come?
SO:
I don't know yet. For sure the final result is much better than our performance. We came here with a specific goal but we are far from achieving it. We never had the speed to compete with the best. We weren't really competitive. We didn't even win a stage. It's a bit unusual for me and for the team. There is plenty of work to analyse to understand what went wrong but coming out of this weekend with 19 points is very positive.
Q:
Still there were some good moments this weekend. And this morning started well, didn't it?
SO:
Yes there were two stages this weekend where we were a bit better. But still, it's not enough. On the clean sections, the car is supposed to be strong but it wasn't the case. We kept fighting, we never gave up and we're rewarded with a lot of points. I think about Elfyn and Scott who would have deserved to win or Ott who was also very strong. The FIA World Rally Championship is closer than ever.
Q:
Julien Ingrassia, you earned a lot of points even though you were not first on the road. It's still very positive?
JI:
Yes it's true. We must look forward now. We never won in Argentina and it's quite a big challenge and an objective for us. We are all starting from scratch after four events. This bad weekend will boost our motivation.
Q:
We all know that Corsica offers so much information to a co-driver. Are you satisfied with the way you handled things?
JI:
No because it's never perfect. I remember one mistake specifically in the first stage. We came out of a left-hand corner and I said there was a right-hand corner next but Seb said "no no". I repeated the note because he was overtaking a cow. On the video, I realized that it was the movement of the car that misled me.
Q:
Elfyn, incredible pace from you and an astonishing stage time this morning. What did you think before starting?
EE:
I didn't think. Maybe I left my brain behind. What happened is very disappointing. After what had happened last night, I definitely wanted to try to catch up this morning. I did not think that our chances were all that high. I tried and it sort of worked.
Q:
You were absolutely on the limit this morning. What happened to your time last night?
EE:
I don't know. It did not feel like a terrible stage but I was surprised to loose by such a massive margin. I just wanted to forget it and focus on this morning, which we did.
Q:
Disaster struck this morning. What happened?
EE:
It was a difficult bumpy stage. We needed to take risks because all of the sudden, 10 seconds isn't that much. I don't know exactly what happened.  We weren't exactly setting the time sheets alight. From my feeling, we were in the middle of the road and we hit a stone and soon afterwards the puncture alarm went on. We had 11 kilometres to go and we decided to try and continue. Three kilometres to the end, I thought we were not going to make it. At least we salvaged the podium.
Q:
Overall, it was fairly positive?
EE:
It's pretty positive, yes. It's a good start for our season but it's still early days yet and we need to continue in the same vein. I'm really happy with the Fiesta on the four opening rounds. The guys are working really hard.
Q:
Scott Martin, 3rd place is obviously a disappointment but still it's a reason for satisfaction?
SM:
Yes it's positive and 3rd place is ok. We have a lot of positive to take away. We made a good start to the season and we moved up the time sheets. Corsica is very difficult, even so when you know that we've been working together for only four rallies. Not all the pace-notes were exactly correct because this rally is a big, big challenge. But I really enjoyed the rally. To be here on the podium is a satisfaction and I'm looking forward to the rest of the season.
Q:
What about your amazing run this morning. Were you surprised?
SM:
Actually it was the stage I was the most worried about because it has a different layout to the rest of the rally. It stood out for me during the recce. I was nervous this morning and finally, it turned out to be one of my favourites. The time sheet helped. We had no idea that it was going to be that quick as last night, we did not know we were going to be so slow.
 
Q:
Elfyn, isn't it THE stage of your carrier?
EE:
It's difficult to say. The time suggests so. But I'm sure we could have been quicker because I made a few mistakes here and there.
Q:
Andrea Adamo, yesterday you felt that Thierry was the one leading the rally and not the team. How do you feel now?
AA:
I cannot say that I'm not happy but without the punctures, we wouldn't have won. We have to recognise that the team wasn't at its best this weekend. I don't think we won as Hyundai. Thierry won, Hyundai didn't.
Q:
It was quite a big battle this weekend. What was the feeling when Thierry won?
AA:
Honestly, I was ready to accept the defeat. I'm very clear with myself, the team and the car performance. I couldn't ask Thierry and Nicolas for miracles because they already exceeded the physical limits. I was pretty ready to accept the second place. It would have given us the lead in the Manufacturers' FIA World Rally Championship. I'm happy but I'm realistic. Meeke's puncture helped us to gain a place.
Q:
How confident are you moving forward to Argentina?
AA:
I'm realistic: we have to be more competitive. We have two crews well-placed in the starting order. I hope we won't have any crashes in Argentina. We lost an opportunity in Mexico. We have to focus on being more competitive.
FIA WRC 2 PRO CHAMPIONSHIP
Present:
Lukasz Pieniazek (POL), M-Sport Ford World Rally Team
Kamil Heller (POL), M-Sport Ford World Rally Team
Q:
Lukasz, Corsica is always a tricky challenge. Did you feel confident in the car?
LL:
No. To be honest, we didn't feel confident with the car or with the pace-notes. But in the end, we collect 25 points because nobody seemed to want to finish. That's what matters. In the very long stage, it was quite tricky because it was half gravel and half tarmac at the end. I had too much information in one of the corners and we slipped off and hit a wall. Today however, it was pretty straightforward. We were just trying to finish, which we did.
Q:
Kamil Heller, the last time we saw you, you couldn't speak because you bit your tongue. Today's not the case. How satisfied are you?
KH:
I'm very satisfied to be up the finish as we coped with all the problems. It's my first time in this rally and I have to get experience. The result is not so bad. I'm happy.
FIA WRC 2 CHAMPIONSHIP
Present:
Fabio Andolfi (ITA)
Simone Scatolin (ITA)
Q:
Fabio, how do you feel? You put up a great fight as well?
FA:
Yes we did. I'd like to thank everyone, especially my team Motorsport Italia and Pirelli. They gave us a great car. The last stage was hard because Nikolay was in front of me. We went for it so we are very happy. On the long stage, I performed well. I think it's going to give us confidence for the season.
Q:
Simone, how did you feel before this final stage? Did you want to really go for it?
SS:
Well yes, you need to try when you're in our position but you don't know what can happen when you take risks. We took risks and we won. Corsica is the maximum for a co-driver.
FIA JUNIOR WRC CHAMPIONSHIP
Present:
Julius Tannert (GER), ADAC Sachsen e.V.
Jürgen Heigl (GER), ADAC Sachsen e.V.
Q:
Julius, it was a thrilling final stage and an incredible weekend. You must be delighted. Did you push very hard in the final stage?
JT:
It was a very hard weekend. We lost 60 seconds because of brake problems in the morning yesterday. We did not give up and we were 4.3s behind the leader before the final stage. We gave everything and we won by 1.9 second. It's my best win ever and to win in Corsica is just amazing.
Q:
It is amazing indeed. How do you feel about it and what's your goal for the rest of the season?
It's always nice to have a win on the Tour de Corse in your biography. Now we can make a big push for the FIA Junior World Rally Championship. We've improved a lot over the past two years. We've learnt a lot. We hope to win on gravel now.
Q:
Jürgen Heigl, what a great result for you. How do you feel about it?
JH:
It's actually my second win here, after my victory in 2013 when I was racing in Group N in the FIA European Rally Championship. The rally is really tough for co-drivers. We had a strong run in the final stage. We were really confident at the start and very calm. We tightened the belt a little bit more and here we are.